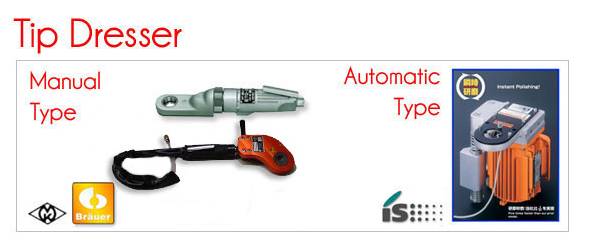 In the automotive industry resistance robot welding guns are used to weld the parts of the car body. In this automated welding process the welding current melts the car body parts on the contact surface so that they are permanently connected at the welding spot. The welding electrodes are supplied with replaceable electrode caps. They easily wear due to thermal and mechanical strain, which affects the quality of the welding spots. After a given number of welding spots, the electrodes are treated in a tip dresser unit. The original form of the caps is restored so that the welding spots comply with the requested quality with respect to size, form and stability. To dress the rotationally symmetrical electrode caps the robot arm swings the weld gun towards the tip dresser. After a short period the gun closes and the caps are renewed by erosion of 0.1-0.15mm in a dressing process of only 2 seconds.
Main Features (Manual type)
Dress upper and lower electrode at the same time maintaining a perfect alignment (Brauer model)
Pneumatic drive, Highly portability to anywhere in the welding line
Convenient style for common use
Economic style

Main Features (Automatic type)
Electric geared motor drive
Improve quality management, work uniformity, high safety standard
Small and lightweight design for superior operation
Come with equalizing, plus option of control box with controllable rotation function
CE and UL certified model available


Tool Handling Instruction Type ETD-18F.
Specifications:
ETD-18A Pneumatic Cap Tip Dresser
Tip size (approx.): 9-16mm.

Clamp open size (approx.): 25mm.

No-laod R.P.M. (approx.) 1,300mm.

Air consumption (approx.): 0.5 m3/min

Air pressure (approx.): 5-6 kg/cm2

Overall length (approx.): 309mm.

weight (approx.): 2.0kg

Hose inner dia. (approx.): 9.5mm.
Set components:
This unit (set up the clamp plate of the specified size): 1 piece.
Cutter case (specified size) 1 piece.
Type of cutter cases : The cutter case bore diameter acts as a guide so that the cutter dresses at the correct location relative to the tip. Please specify a cutter case that matches the tip size.
Example of Cutter Manufacturing Limitations :
1. The cutting edge depth is limited to 7.5mm ( which is 1/2 of the total height of 15mm) or less due to strength conditions.
2. Should the cutting edge angle on two-blade cutters get too small, chatter will result and the finished shape will be susceptible to breakage. Therefore we limit it to a minimum of 50 degrees.
---